Custom Window Company
Custom Window Company has offered quality vinyl and aluminum replacement windows since 1980. We provide sales and installation, as well as replacement of vinyl and aluminum windows. Let us help you with all of your custom window needs.
The Finest Custom Windows in Shreveport, LA
Founded in 1980, the Custom Window Company has been serving Shreveport, LA and the surrounding areas, up to a 100-mile radius, for over thirty years. At Custom Window Company, we specialize in preparing and building custom window designs in all different shapes and sizes. With customer satisfaction being our number one priority, we are happy to offer home owners, business owners and more the freedom to customize their window design. Whether you are remodeling or building from scratch, our window experts have the experience, equipment and knowledge to help you create the custom window or windows that you've been envisioning.
Commercial work we did for a local U-Haul!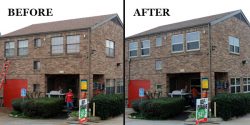 In addition to offering custom window services for both residences and businesses, Custom Window Company also offers window installation and window replacement in Shreveport, LA. Whether you have an old home that is in dire need of new windows or you're building a new business location, Custom Window Company can help you with all of your window needs. Here are just a few reasons why Custom Window Company is one of the most popular window installers and designers in the Shreveport, LA area:
We offer a number of unique, custom window designs for residential and commercial customers.
Custom Window Company is a proud member of the Home Builders Association.
We are an accredited Better Business Bureau member.
Customer satisfaction is our number one priority.
We can help you update any windows with our window replacement services.
Proudly offering Fine Custom Windows in Shreveport, LA and surrounding areas, such as:
Shreveport, LA
Keithville, LA
Greenwood, LA
Stonewall, LA
Red Chute, LA
Eastwood, LA
Princeton, LA
Haughton, LA
Bossier City, LA
Caddo Parish, LA